Pin It Now!
Today is one of those glorious autumn days, where the sky is bright blue, the sun is shining and the leaves on the trees and the ground really show all their great colours. So, the perfect day for an early morning run. Whilst I was puffing away I got in the mood for baking some bread.

I love baking bread. There is something so satisfying about kneeding the dough and seeing it rise, not to mention the smell it fills your house with. I actually find it quite therapeutical. When I first got into cooking and baking, I didn't really dare to attempt baking bread. I had grown up watching my mum make beautiful fluffy loaves and I just didn't think mine would be the same. Once I tried though I realised that it isn't that difficult at all.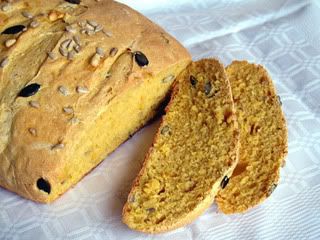 I used some of the puree I made on Friday to make Pumpkin Bread. This is a German recipe for a yeast bread, so it's completely different from the more common American style Pumpkin Breads, which usually are more cake like. If you can't be bothered roasting your pumpkin to make the puree just for this bread, you can peel and cube a pumpkin and simmer it in water until soft, then drain and puree.

Pumpkin Bread
125ml milk
500gr bread flour
300gr pumpkin puree
1tbsp butter
2tbsp sugar
1tsp salt
1 packet quick action yeast
a handful of pumpkin and/or sunflower seeds (optional)
In a large bowl, mix the pumpkin puree, butter and milk.
In a seperate bowl combine the sugar, yeast, salt, flour. Add bit by bit to the wet ingredients, mixing well. Once it's starting to look like bread dough and you can't stir it with your wooden spoon any longer, turn it out onto a clean, floured surface. Kneed well for about 5 minutes.
If it is very sticky, add some more flour, 1 tbsp at a time. You don't want to overdo it with the flour. The dough should remain nice and elastic. If you add too much flour the bread becomes very dense.

Place in a lightly oiled bowl and cover with a clean tea towel. Allow to rise in a warm place for 45 minutes, or until doubled in size. I usually fill my sink with hot water, place an oven rack over the top of it and stand the bowl on the rack.
Punch the risen dough down and again turn it out onto a clean surface, that you have dusted with flour. Kneed for five minutes. If you like you can roll it in a handful of pumpkin or sunflower seeds.
Shape into desired loaf and place on a baking tray, alternatively you can bake it in a greased loaf pan. Cover again with a clean tea towel and allow to rise for a further 30-45 minutes.
Whilst the loaf is rising pre-heat your oven to 170C or Gas Mark 4.
Bake in the middle of the oven for approximately 45 minutes.
You can test if the loaf is done by 'knocking' on the bottom of it. It should sound hollow.