Pin It Now!
I used to bake quite a lot, but since moving and living on my own it doesn't seem to make that much sense to bake a cake. Either I'd have to eat it all, in which case even cycling to work and everywhere else would not stop me from piling on the pounds, or alternatively a lot of it would go to waste, and that just doesn't go with the whole love food, hate waste philosophy. This weekend I've baked two cakes though, one which I took to a dinner party yesterday and which I'll post about later this week and a Lemon Drizzle Cake, just because I fancied some and I figured that even if nobody comes round to visit to today, I'll just have a slice or two by myself and take the rest to work and make my colleagues happy tomorrow.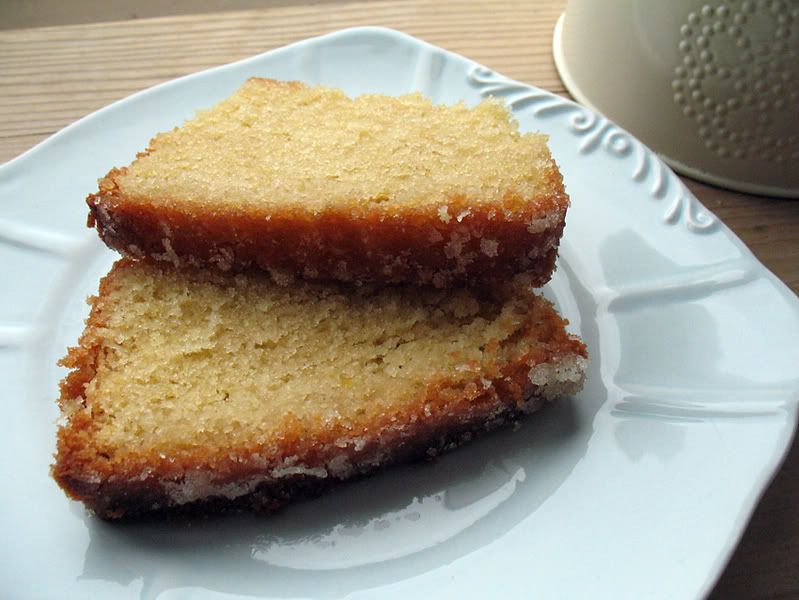 A couple of months ago Tana Ramsey's Lemon Drizzle cake made an appearance on quite a number of food blogs and I've been meaning to try it ever since. So, I finally did. It's a good cake, easy to make, moist and lemony and I'm sure it'll still be good and not dried out after a couple of days, but for me it's not quite lemony enough and my other recipe remains my favourite.

Here's the recipe as it appears on the BBC Good Food website for you, so you can try it for yourself and see if you like it better than your favourite Lemon Drizzle Cake.




Tana Ramsey's Lemon Drizzle Cake

225g unsalted butter, softened
225g caster sugar
4 eggs
finely grated zest of 1 lemon
225g self-raising flour

juice of 11⁄2 lemon
85g caster sugar

Heat oven to 180C/fan 160C/gas 4.

Beat together the butter and sugar until pale and creamy, then add the eggs, one at a time, slowly mixing through.

Sift in the flour, then add the lemon zest and mix until well combined.

Line a loaf tin (8 x 21cm) with greaseproof paper, then spoon in the mixture and level the top with a spoon.

Bake for 45-50 mins until a thin skewer inserted into the centre of the cake comes out clean. (Mine took 60 minutes.)

While the cake is cooling in its tin, mix together the lemon juice and sugar to make the drizzle.

Prick the warm cake all over with a skewer or fork, then pour over the drizzle - the juice will sink in and the sugar will form a lovely, crisp topping.

Leave in the tin until completely cool, then remove and serve. Will keep in an airtight container for 3-4 days, or freeze for up to 1 month.