Pin It Now!
I hope you all had a wonderful Christmas and let me wish you a happy and healthy 2009!

One last post from Germany before I fly back to England on Monday. The Christmas dinner went well, no major disasters, we could have only done with a few more sprouts. I'll share the recipe for the roast when I get back. It was good and definitely tasted of Christmas, with all the Cranberries and spices in the filling.

For now I have one more recipe to share that has been a longtime favourite with me and which I also made for the party last month. Ever since I first made Onion and Goats Cheese Flan have I been 'in love' with it. Making it involves peeling and chopping nearly 1kg of onions, but it is so well worth it. The result is a flan filled to bursting with sweet, caramelised onions and topped with a wonderful mild and tangy chevre. Perfect, complementary flavours. Whenever I make it for a party, BBQ or Picnic, I look forward to taking the leftovers to work the next day, but I should know better by now, because there never are any.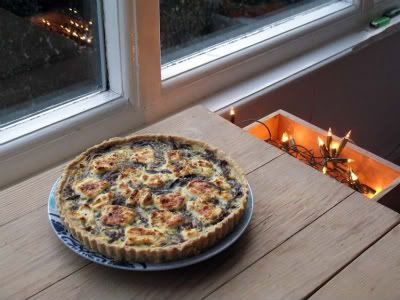 If you don't like making your own pastry or are pushed for time, just use some shop bought pastry or even a ready made pastry case.

Onion and Goats' Cheese Flan (makes 1 flan)

For the pastry:
300 g plain flour
150 g butter, softened
1-2 tbsp water

For the filling:
2 tbsp olive oil
750 g red onions, finely sliced (that's about 4 very large onions)
4-6 shallots, finely sliced
1 tsp sugar
1tbsp fresh thame, chopped
150 g goats' cheese, preferably a mild, creamy variety
1 egg
3 egg yolks
100 ml double cream
100 ml milk 1-2 teaspoon
salt
1-2 teaspoon fresh ground black pepper

To make the pastry, sift the flower and 1/2 tsp of salt into a bowl.

Add the butter and with you fingers rub the butter into the flower until absorbed.

Add water to form a thick but workable dough.

Cover the pastry in cling film and chill in the fridge for about 30 minutes.

On a lightly flowered surface roll out the pastry thinly to cover a 28 cm flan dish.

Prick the base a couple of times with the fork and bake blind in a preheated oven (200 C, 400 F or Gas Mark 6) for about 15-20 minutes.

While the pastry is baking start on making the filling by heating oil in a large frying pan.

Fry the onions and shallots on a gentle heat until soft and starting to colour, around 15-20 minutes.

Add the sugar, thyme and salt to taste and mix well.

Spread the onions into the part-paked pastry case.

Beat the egg, yolks, cream and milk together and pour the mixture over the onions.

Crumble the goats' cheese over the top and sprinkle with some black pepper.

Bake in a preheated oven (200 C, 400 F or Gas Mark 6) until the filling has set, approximately 25-40 minutes.