Pin It Now!
I know. It has been a long time. I needed a break and I took it, traveling out to the Western Isles and Germany and also just enjoying time with friends at home. If you want to see some of the places I went and some of the things that I saw have a look at Photobooth. I'll let the pictures do the talking this time.

I finally got back on Saturday and yesterday E and JM came up for a simple dinner of Chorizo and Vegetable Pasta Bake. I got the recipe from a card I picked up at Waitrose in Edinburgh. It appealed to me instantly with it's few simple ingredients.
I adjusted it slightly as it needed garlic and more cheese in my opinion, but the main ingredients didn't change. At one point the original recipe just states to season the sauce, but not how, so below is my take on seasoning as well.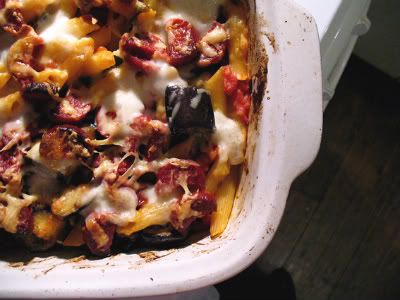 Chorizo, Vegetable & Pasta Bake (serves 4)

olive oil
a handful fresh basil leaves, shredded
1 clove of garlic, minced
400gr tinned chopped tomatoes
2tsp sugar
1 1/2 tsp powdered vegetable stock
1/2 green pepper
1/2 red pepper
1 aubergine (eggplant), cut in half lengthways
350gr dried Penne Pasta
125gr mozzarella, torn into chunks
1/2 cup grated cheese
250gr chorizo, cut into bite-sized chunks

Preheat your oven to 200C.

Heat some oil in a frying pan, add the basil and garlic and fry for 30 seconds before adding the chopped tomatoes.

Simmer for 5 minutes and season with the vegetable stock powder, sugar and salt and pepper to taste.

While the sauce is simmering, brush the peppers and aubergine halves with some oil and fry in a griddle or frying pan for 10 minutes, turning once. (I found it easier to half the peppers again into quarters, to cook them more evenly.)

While the vegetables are frying cook the pasta in plenty of salt water until al dente, drain and mix with the tomato sauce.

Transfer into a large baking dish.

Cut the cooked vegetables into strips and carefully stir into the pasta.

Tuck the chorizo into the top of the pasta and top with the grated cheese and fresh mozzarella.

Bake for 15 minutes.