Pin It Now!
On Friday night, L and H came round for pre-cinema dinner, before going to watch Io sono l'amore. (One of the best films I have seen in a long time by the way, so if you haven't seen it yet, do!)

I felt like all I'd been feeding them the last few times they'd been round was roast vegetables with couscous, so I wanted to do something different. My problem was that I'd left my purse in the bookbindery and only had a few coppers in the penny jar, so I had to make something that didn't involve much shopping. I checked my cupboards and found that they contained most of the ingredients needed to make a chili. All I had to go and buy was a courgette and a red pepper and there was enough change for those. Perfect.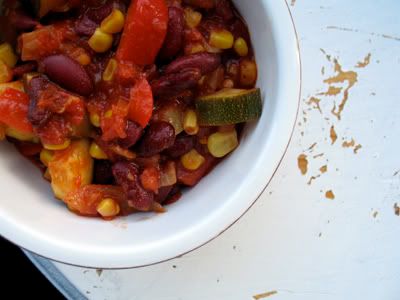 Vegetarian Chili (serves 3-4)

olive oil
1 clove garlic, finely chopped
1 onions, diced
3 cm ginger, grated
1/2 tsp cumin
1/2 tsp paprika
1 tbsp tomato purée
1 red peppers, diced
1 courgette, diced
1/2 tsp dried red chilli flakes
1/2 can canned chopped tomatoes (with jalapenos)
1 can kidney beans, 400g
1 small can sweet corn
pinch salt and black pepper

In the oil in a large frying pan and add the onions. Sweat for a few minutes until they begin to soften.

Add the garlic and the grated ginger, together with the cumin and the paprika.

Fry for another couple of minutes, before adding the tomato puree. Stir well and fry a little longer (the tomato puree should turn dark reddish brown), before adding the rest of the ingredients.

Bring to a simmer and cook for 20 minutes, until the vegetables are tender.

Serve with rice, as a topping for a jacket potato, or just in a bowl with some torillas or nachos.

Enjoy!