Pin It Now!
I should have probably posted this earlier, as the season for elderflower is now over, but I guess you can bookmark it for next year or be adventurous and find a recipe for elderberry wine, as elderberries will be everywhere very shortly.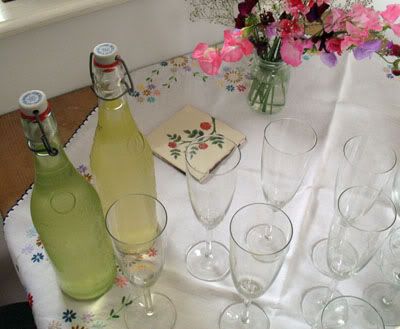 I made the elderflower champagne with my friend J and we actually nearly left it too late ourselves. A few Sundays ago we got on our bikes and scoured the hedgrows, but many of the elderflowers had already gone and had started becoming elderberries. We did manage to find just enough to make one batch of elderflower champagne, even if we nearly killed ourselves in the process. I should point out that that was in the picking stage, not the actual making stage, which was pretty easy. What wasn't easy was to avoid the chest-high stinging nettles, brambles and other scratchy and prickly nasties along the River Mersey.

Well anyways, I can only advise you to try it, it's delicious, nearly free and there is nothing as good as making something from things you have picked yourself in the hedgerows. We're still amazed that we made it and that it actually pops and sparkles! The recipe I have copied below is by Hugh Fernley-Whittingstall, himself a great advocate of forraging and preparing seasonal food.

Bottoms up!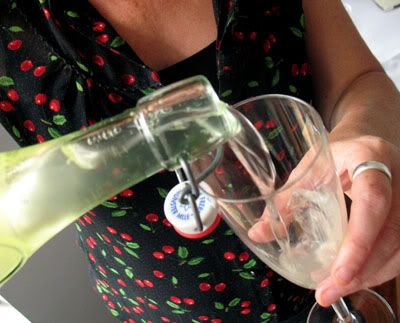 Elderflower Champagne (makes about 6 litres)

4 litres hot water
700g sugar
Juice and zest of four lemons
2 tablespoons white wine vinegar
about 15 elderflower heads, in full bloom
pinch of dried yeast (you may not need this)

Put the hot water and sugar into a large container (a spotlessly clean bucket is good) and stir until the sugar dissolves, then top up with cold water so you have 6 litres of liquid in total.

Add the lemon juice and zest, the vinegar and the flower heads and stir gently.

Cover with clean muslin and leave to ferment in a cool, airy place for a couple of days. Take a look at the brew at this point, and if it's not becoming a little foamy and obviously beginning to ferment, add a pinch of yeast.

Leave the mixture to ferment, again covered with muslin, for a further four days. Strain the liquid through a sieve lined with muslin and decant into sterilised strong glass bottles with champagne stoppers (available from home-brewing suppliers) or Grolsch-style stoppers, or sterilized screw-top plastic bottles (a good deal of pressure can build up inside as the fermenting brew produces carbon dioxide, so strong bottles and seals are essential).

Seal and leave to ferment in the bottles for at least a week before serving, chilled. The champagne should keep in the bottles for several months. Store in a cool, dry place. During the first two week of fermenting in the bottle we released the pressure every other day, by popping them briefly.