Pin It Now!
Well, it's Burns Night, but if you've come looking for haggis I have to disappoint you. I volunteered to bring the pudding to my friend H's Burns Night dinner and I know this isn't even Scottish, but nobody seemed to mind that it wasn't quite in keeping. There was not much left by the end, even though we had all had plenty of haggis, neeps and tatties.

I didn't have any unwaxed oranges, so left out the orange zest called for in the recipe, but I'm sure it is even better with it in, if that is possible. The cake is really moist and not too heavy. It will sink in the middle after coming out of the oven, but even Nigella's cake in the cookbook looks like that, and if it's good enough for her, it's good enough for me.

Now the only thing I can't wait for is longer days, so that I can take decent pictures in daylight again.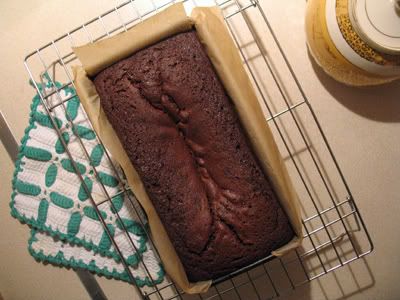 Chocolate Orange Loaf Cake

150gr soft unsalted butter, plus some extra for greasing the pan
2 tbsp golden syrup
175gr dark muscovado sugar
150gr plain flour
1/2 tsp bicarbonate of soda
25gr best-quality cocoa powder, sifted
2 eggs
zest of 2 oranges and juice of 1 orange

Preheat your oven to 170C/Gas 3 and grease and line a 2lb loaf tin with baking paper.

In a large bowl beat the soft butter with the sugar and golden syrup until you have a smooth mixture.

Sift together the flour, bicarb of soda and cocoa powder in a separate bowl.

Beat one tablespoon of the dry ingredients into the creamed butter.

Add one egg and continue to beat before adding another couple of tablespoons of the dry ingredients and the other egg.

Continue to add the dry ingredients, before finally beating in the orange zest and lastly the orange juice. It says in the book that at that stage the batter might look as if it could be curdling a little but not to worry. That didn't happen with mine though, but as I said I left out the zest and that could have something to do with it.

Spoon the batter into your prepared tin and bake for 40-50 minutes. If you test the cake with a wooden skewer for doneness it will not come out completely clean as there should still be some moisture at the very centre, hence the sinking of the middle.

Leave to cool for a short while in its tine, before carefully turning it out and allowing it to cool completely on a wire rack.

Enjoy!