Pin It Now!
After two weeks of many perfect sunny (and fairly mild) autumn days, today has been grey and pretty cold. The perfect kind of day for soup to warm the cockles of my heart.

I'm on an economy drive, which means making a meal plan for the week on Sundays and doing one big shop on Mondays, rather than loads of little daily shops which end up being expensive. So I sat down and flicked through some cookbooks for inspiration. Making meal plans also seems as good a reason as any to get back to cooking new recipes again and hopefully as a result getting back to weekly blogging.

On a summer holiday to Ireland a few years ago I was impressed by the food in the Avoca cafes and bought two of their cookbooks, one on baking and for soup. That's where I saw this recipe for Sweet Potato and Lentil Soup, full of goodness and warm spices and thick enough to be suitably substantial for dinner (I guess you could call it stoup). I added a little brown sugar to cut through the acidity of the tomtaoes and a few chilli flakes for a little extra heat, but below is the original recipe.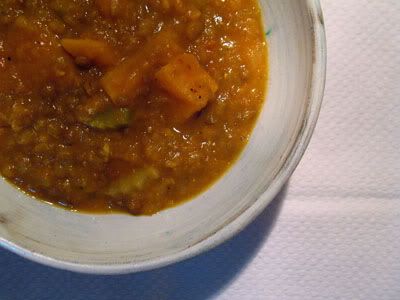 P.S.: When I reheated the left-overs for lunch today, they had thickened even more and reminded me of a dhal. I added some curry powder and it made it even better, so I'd probably do that straight away next time.

Sweet Potato and Lentil Soup (serves 4-6)

25g butter
2tbsp olive oil
2 onions, peeled and chopped
1 medium sweet potato, peeled and chopped
1 medium carrot, peeled and chopped
2 celery stalks, trimmed and chopped
150g Puy or brown lentils
1/2tsp tumeric
1tsp ground cumin
a pinch of ground cinnamon
3cm piece of fresh root ginger, peeled and finely chopped
3 cloves of garlic, peeled and chopped
1/2 x 400g can tomatoes
1 litre chicken stock (I used vegetable stock)
1 lemon, juice of

In a large saucepan, heat the butter and oil over medium heat.

Add the onion and fry without colouring for about 10 mins till soft and transluscent.

Add the sweet potato, carrot, celery and lentils and stirr to coat in oil.

Add the spices, ginger and garlic and cook for 2-3 minutes stirring occassionally.

Add the tomatoes and the stock.

Season with lemon juice, salt and pepper and cook for about 30 minutes until the potatoes and the lentils are soft and tender.

Using a stick blender , puree briefly, so everything is still chunky rather than smooth.

Check the seasoning, reheat and serve.

Enjoy!