Pin It Now!
I love dal. It's simple, it's comforting, it's filling, it's budget friendly.

The mistake I often make though is to over-complicate it, and whereas I really do like Makhani Dhal and Lentil, Cabbage and Tomato Dal (which I can't believe I haven't shared on here), I always really enjoy it when friends cook a really simple dal or on the rare occasion that I get an Indian take away.

When choosing things to cook for last week's curry night my mission was to try and keep the dal simple. So, I picked Chana Dal or Dal of Bengal Gram from Camille Panjabi's 50 Great Curries of India cookbook, a book which I've had for ages and which is full of really good recipes from various different regions.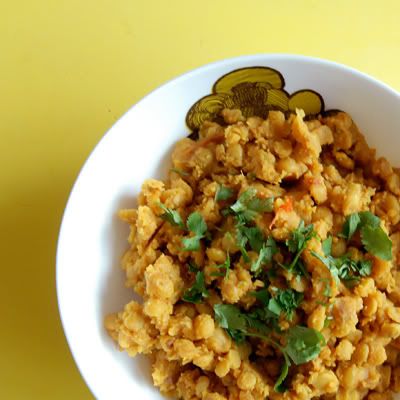 The Dal is nice and creamy in texture. I photographed it cold the next morning,
so it appears somewhat drier and grainier in the image.

Chana Dal (serves 4)

250g Bengal gram (chana dal)
vegetable oil or ghee
salt
2 garlic cloves chopped
1 cm piece of fresh ginger, chopped finely
2 green chillies, chopped finely
1 bay leaf
1/2tsp cumin seeds
3/4tsp red chilli powder
1/2tsp tumeric
1 tomato, chopped
1/2 tsp sugar
a pinch of asafoetida
fresh coriander leaves, chopped

Wash the dal well and put it in a pan covered with water to soak for 15-20 minutes.

Drain and top with 500ml of fresh water. Bring to a boil, reduce heat and simmer for 20 minutes or so until soft.

Add about a teaspoon of salt and remove from heat.

Heat some oil in a small frying pan and saute the garlic, ginger, chillies and bay leaf for two minutes.

Add the cumin, red chilli and tumeric and stir well, then add the chopped tomato and continue to stir for two more minutes.

Add this spice mixture, the sugar and the asafoetida to the dal and bring back to a boil. Reduce the heat and continue to simmer until the dal is very soft, but still semi-separate.

Top with fresh coriander leaves before serving with rice or roti.