Pin It Now!
I know I have been singing Hugh Fearnley-Whittingstall's praises a lot lately, but Yottam Ottolenghi is another chef who rarely disappoints and whose recipes often get me very excited, wanting to run to the shops for (the admittedly often long list of) ingredients right away. I still owe Yuri a pork belly dinner for giving me his duplicate copy of Ottolenghi - The Cookbook and now I want to buy Jerusalem by Ottolenghi and Sami Tamimi, too.

This recipe was published in last weekend's Guardian Weekend and as soon as I saw it I knew I had to try it. I love fish cakes anyways, but what really excited me about the Cod Cakes in Tomato Sauce was the lack of the usual mashed potatoes to bind and fill. These cod cakes are mainly just that, cod. Or in my case Haddock.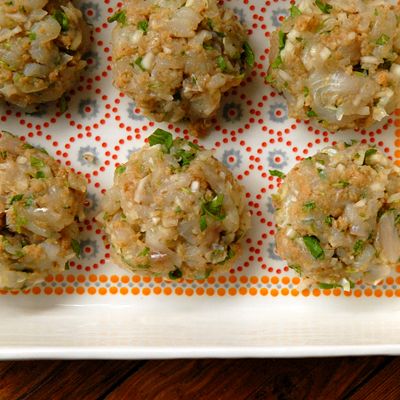 It takes a bit of time to prepare, but comes together easily and to be honest, most of what looks like a fairly substantial list of ingredients are staples and spices that I always have in my kitchen anyways. The fishacakes are delicate, moist and well seasoned. The tomato sauce is sweet with a very subtle hint of heat from the chili.

I served them with rice and the only thing I might criticize a little is that it would have been nice to have a bit more sauce. I guess I could have added a little extra water in the last step though. Here is my adapted version (no parsley in my kitchen, sorry). The original recipe can be found here.




Yottam Ottolenghi's Cod Cakes in Tomato Sauce (serves 4)

For the fishcakes:
3 slices good white bread, crusts removed
600g sustainably sourced cod (fillet, or halibut, hake or pollock), skinless and boneless
1 medium onion, peeled and finely chopped
4 garlic cloves, peeled and crushed
60g coriander, finely chopped
1 tbsp ground cumin
1½ tsp salt
2 large free-range eggs, beaten
4 tbsp olive oil
2 tbsp fresh mint leaves, roughly chopped

For the sauce:
2½ tbsp olive oil
1½ tsp ground cumin
½ tsp sweet paprika
1 tsp ground coriander
1 medium onion, chopped
125ml white wine
400g tin chopped tomatoes
1 red chilli, deseeded and finely chopped
1 garlic clove, crushed
2 tsp caster sugar
Salt and black pepper

Start with the tomato sauce:

Chose your largest frying pan with a lid and heat some olive oil.

Add the onion and spices and fry, stirring regularly for around 10 minutes, until soft.

Pour in the wine and continue to simmer for three minutes or so.

Stir in the tomatoes, chilli, garlic, sugar, half a teaspoon of salt and some black pepper to the pan.

Continue to simmer over medium heat for around 15 minutes. The sauce should be quite thick at that point.

Check the seasoning, adjust if necessary and set the sauce aside.

Whilst the sauce is simmering away you can start on the fishcakes.

Blitz the bread in a food processor till you have breadcrumbs.

Chop the fish very finely and place it in the bowl, together with the breadcrumbs, onion, garlic, corriander, cumin, salt and beaten eggs.

Use your hands to mix well and then shape it into 8 fishcakes. They should be about 2cm thick and 8cm wide.

They will be quite wet and loose. Refridgerating them for half an hour will help firm them up if needed. Or if like me you are prepping ahead of time you can stick them covered in the fridge for a few hours.

Heat the olive oil in non-sticking frying pan and fry the cakes for three minutes on each side in two batches, adding oil as necessary. This is just to give them some colour and seal the outside a little, not to fully cook them.


Put the sauce in the large pan, place the fishcakes on top and add about
200ml of water to the pan, just enough to partially cover the fishcakes.

Cover with a lid and simmer on a very low temperature for 15-20 minutes. After that time turn of the heat, remove the lid and let the fishcakes sit for another 10 minutes or so.

Sprinkle with the chopped mint (I didn't read this bit of the recipe properly and added the mint to the fishcakes which worked really well too) and serve with rice, coucous, bulghur or just some fresh crusty bread.

Enjoy!