Pin It Now!
When reading through Tinned Tomatoes by Holler this afternoon, she had posted an entry for the Vegetarian Feast blog event, hosted by Judith at Shortcut to Mushrooms. The event was just about perfect for me, as this time the challenge is to make a vegetarian quiche, tart, flan or savoury pastry (basically anything as long as it is vegetarian, flat and has a crust) and I had just come back from the kitchen where I had put my vegetables in the oven to roast for my quiche.

If I remember this right the recipe for this quiche came from a supermarket magazine and even though roasting the vegetables first means a little more effort and time, it is well worth it as they become wonderfully sweet and full of flavour. It also makes it the perfect recipe for using up left-over roast veg if you have any. The gruyere means it's nice and cheesy and not too eggy.

I love it when it's warm as a light meal with a side salad and even better it's great cold too, so ideal for picnics and lunch boxes. Of course you can make your own pastry, but if you don't have that much time or don't like making pastry the store bought stuff works just fine.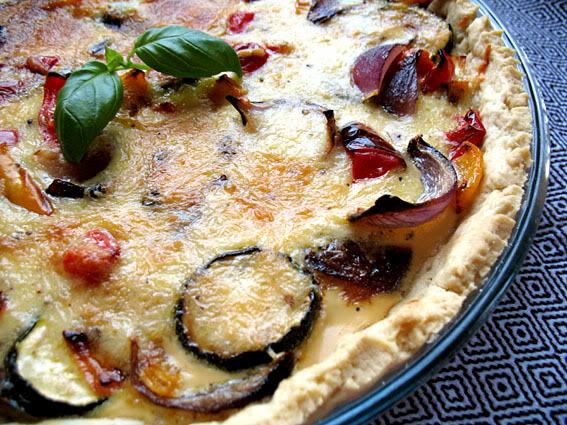 Roast Veg and Gruyere Quiche

350gr frozen shortcrust pastry, thawed
1 red onion, quatered
1 red pepper, de-seeded and chopped
1 yellow pepper, de-seeded and chopped
1 courgette, sliced thickly
1 tablespoon olive oil
2 large egg
125ml cream
120gr gruyere or mature cheddar cheese, grated

Preheat oven 200C/Gas6.

Roll out your pastry dough and line a deep 10 inch/25 cm flan dish.

Line with baking paper and baking beans and blind bake for 10 minutes.

Remove paper and beans and return to the oven to bake for another 5 minutes.

Place all the vegetables on a baking tray and drizzle with olive oil.

Place in the oven and roast for about 25-30 minutes until slightly charred.

Set aside and cool slightly, seperate the onion into separate layers.

Turn down the temperature of your oven to 180C/Gas4.

Whisk the eggs with the milk, stir in the cheese and season with salt and pepper to taste (you can also mix in a few of your favourite herbs).

Spread the vegetables over the bottom of the pastry case and pour the egg mixture over

Bake for approx 30-35 minutes.

Enjoy hot or cold.