Pin It Now!
I woke up on Sunday morning just to find that D and our friend G had fallen asleep on the sofa in the living room. Well, one of them on the sofa the other one in a chair. I think that maybe just maybe that was due to just one (or two, or three) too many drinks at the BBQ on Saturday night.
When I looked at them, I was so glad that I had been at least a little more sensible and had drunk a few pints of water before going to bed at about four in the morning. They looked rough and I think they felt it too, even though D only admitted to it when I wanted to go out for a picnic in the afternoon and he really wasn't up to it.
Usually on a morning like that I'd probably cook us a Full English, but I wanted something different, so I made some pancakes, chopped up some fruit, got out the syrup, mixed some yoghurt with quark, made some coffee and poured plenty of fresh orange juice, before waking the two.
The breakfast seemed to be much appreciated and went down well with all of us. A great start to what turned out to be a lazy sunny Sunday.
Old Fashioned Pancakes
(serves 3-4)
1 1/2 cups plain flour
1 tsp salt
2 tbsp sugar
2 1/2 tsp baking powder
1 medium egg, beaten
1tsp vanilla extract
3 tbsp butter, melted
1 1/4 cups milk

Sift together the flour, salt, sugar and baking powder in a bowl.
In a separate large bowl whisk toghether the beaten egg with vanilla extract, melted butter and milk.
Add the flour mix little by little, whisking constantly until you get a smooth batter (it'll be quite thick.
Heat a large non-stick frying pan to medium heat.
Add a little oil and pour approximately 1/4 cup of the batter into the pan for each pancake . Spread out a little with the back of a spoon.
When the batter starts to bubble around the edge and on top, flip the pancake over and bake until the other side is also golden.
Contininue until you have used up all the batter. My pan fits only about three pancakes at a time and I have to make them in batches, keeping them warm in a warm oven.
These are maybe a little thicker than the 'standard' (whatever that may be) American pancake, but they are light and fluffy and taste great.
Enjoy!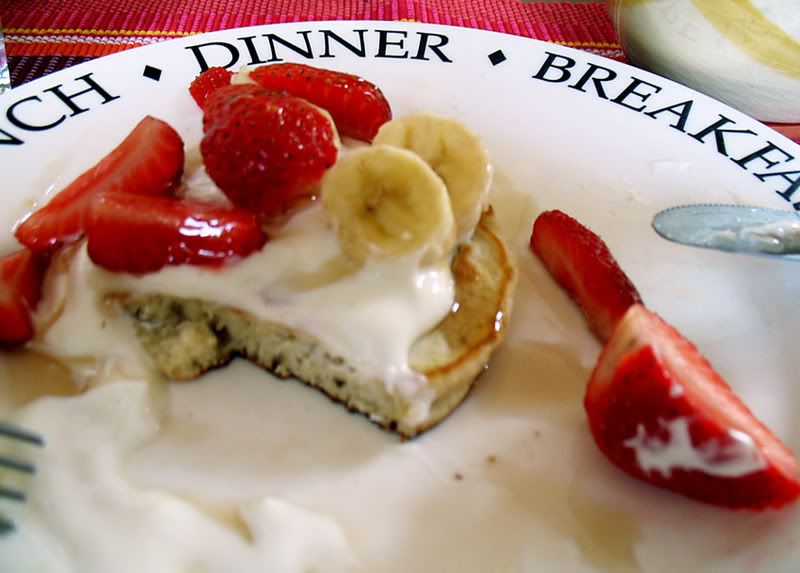 The drinking the night before obviously also affected me. I nearly forgot to take a picture of the 'assembled' pancake and the one I did take of my half-eaten one, is rather blurry, but I guess that was my view of the world at the time!