Pin It Now!
The dog days are here and I hope they'll stay. It's been hot and sunny for a few weeks now and I don't yet quite believe our luck. Should we really be having a lovely summer this year? I hope I'm not cursing it by talking about it. As I type there is a fine rain falling outside my window, but it feels fresh and soothing. Ready for more sunshine to follow.

When it's really warm, I never feel like much cooking. Why would I want to turn the hob or oven on in my tiny kitchen and make it even warmer, but I still have this recipe waiting that I have been meaning to share since I had a party at the end of May.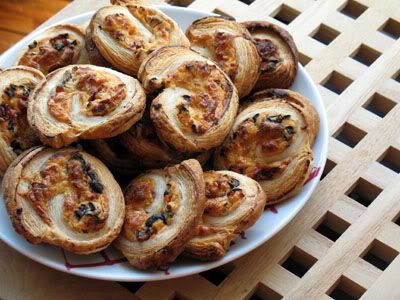 Olive and Sundried Tomato Swirls


1 block of frozen puff pastry, thawed
1 package cream cheese
1 package cream cheese with herbs
1/2 jar sun-dried tomatoes, chopped
a handful of olives, pitted and sliced
150gr gouda, grated
salt, to taste
pepper, to taste

Preheat your oven to 200C/Gas 6.

In a bowl mix all ingredients, except the puff pastry and set aside.

On a lightly floured surface, roll out the block of puff pastry into a large rectangle. To make it a little easier, I divide the block into two and roll out two rectangles.

Spread the cream cheese mixture evenly over the pastry.

Starting from the long side, carefully roll up the pastry.

With a sharp knife cut the roll into 1/2 inch thick slices and place them cut side down onto a non-stick baking tray.

Bake for 20-25 minutes until golden.

Allow to cool on a wire rack, before serving.

These can be made a day ahead.

Enjoy!