Pin It Now!
I'm finally back with some cooking.

Coming home the other week to find a missed delivery card from the postman had me a little confused as I was sure I had not been spending money, buying things I now couldn't even remember. So I was pleasantly surprised when I got to the collection office and found that I had been sent The Free Range Cook by Annabel Langbein to review. Nice. Not having a television, I have to admit to not hading heard of this chef, but opening the book quickly got me interested.

Also what better excuse to invite some friends round for dinner and try some of the recipes. Last night seven of us got together, I cooked, they brought drinks, we ate, drank and were merry. I made Caramelised Onion and Feta Cheese Tart, Roasted Beet and Rocket Salad and Broad Bean Mash with Mint and Parmesan from the book, as well as my own Tomato Salad, Roast Potatoes and Lucy kindly provided Fruity Tiramisu for pudding. Dinner parties on Monday nights might be the new thing. I chose some food for which I could do quite a lot of prep the day before and then just finish it all off after work.

There are some really nice recipes in the book. It seems to me that it's all about using good ingredients and keeping flavours fresh and clean. Nothing too fancy or heavy. I (and I think everyone else) really enjoyed the food. I kept the menu vegetarian so everyone could tuck in without me having to make extra options, but that's not to say that there aren't some really good looking meat and fish recipes in the book also. The only thing I'd say is that the timings are a little enthusiastic, or both me (I'll tell you about shelling the broad beans another time) and my oven are slow. It's also worth keeping in mind that some of the things listed as ingredients in the recipe (such as the caramelised onions) actually are a separate recipe and will also take time to make.

I'll be posting the other recipes soon.

Thanks to Gibbo, Hilary, Lucy, Dylan, Graham and Yuri for being guinea pigs!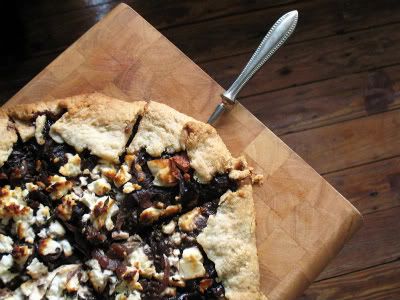 Caramelised Onion and Feta Tart (serves 8)

PASTRY:
250g strong white flour
1tsp baking powder
1tsp salt
220g frozen butter, grated
4tbsp cold water

FILLING:
Caramelised Onions (see recipe below)
150g feta cheese, crumbled
2tsp fresh thyme

To make the pastry, mix the flour and baking powder in a large bowl.

Add the grated butter and work into the flower with your fingers until you have a mixture resembling rough crumbs.

Add the cold water and mix with your hands until you have a soft dough. Don't overwork the pastry, it'll make it tough.

Place a large sheet of baking paper on your work surface and tip the dough onto it. Place another sheet of baking paper over the top and roll the pastry out with a rolling pin into a circle of about 35cm.

Leave between the layers of baking paper and transfer to a baking tray. Chill in the fridge for at least 10 minutes or until ready to assemble.

Preheat your oven to 200C/Gas 6.

Take the pastry from the fridge and remove the top layer of baking paper.

Spread the onions over the top leaving an approx. 4cm border all around.

Crumple the feta over the top and sprinkle with thyme.

Fold the pastry edges toward the centre to partially enclose the filling, then pleat in little folds to make a pastry border.

Bake for 15 minutes the reduce heat to 180C/Gas 5 and bake for another 35-40 minutes until golden and crisp.

N.B. My tart took longer to bake, closer to 15 minutes + 50 minutes. I also covered the filling with aluminium foil after a while to stop the feta from burning, which is easy enough, or you could just add the feta half way through the baking.




Caramelised Onions

6 red onions, peeled and cut into thin wedges
375ml water
75g brown sugar
75ml balsamic vinegar
2tbsp oil
1tsp salt (or to taste)
freshly ground black pepper, to taste


Place all the ingredients into a large pot and bring to the boil.

Reduce heat and simmer gently, stirring now and then, for about 40-45 minutes until the liquid has all but evaporated and the onions are very soft. (I cooked mine slowly for over an hour and they was still quite a bit of moisture.)

During the final steps of cooking take care that the onions don't catch and burn, so stirr a little more frequently.
Remove from the heat and cool before storing in the fridge in a covered container.

Onions will keep, covered, in the fridge for a week.
You could also use these as a base to make onion soup or onion gravy.