Pin It Now!
I love Dhal, but maybe I should first explain to you about the lack of recipe posts on A Pot of Tea and a Biscuit lately.

Okay, so my meal planning as gone to pot somewhat over the last two or three weeks, hence the absence of recipes. I got so bad that I think I ate cabbage and potatoes four times last week. Maybe I should add though that it's one of my favourite things to eat in the winter and I did vary between having it with gravy or poached eggs. Does that make it any better? Another night saw me tucking into a plate of baked beans on toast topped with a fried egg and I think there was even a frozen pizza night (I have tried to erase that from my memory though). So there hasn't been much to blog about.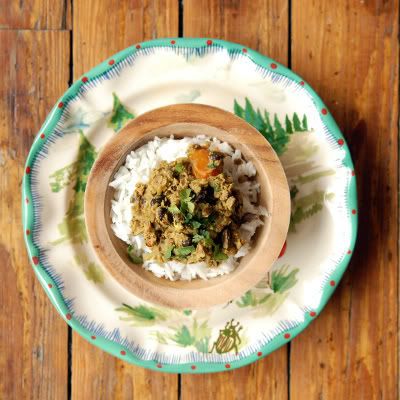 I did make some Makhani Dhal one night a couple of weeks ago and managed to take some pictures, too and today is the first day in what seems like forever that I have time to sit down and catch my breath and share a recipe again. When I first saw the recipe for the dhal here, I thought it sounded interesting as it's made with beans as well as lentils, so I bookmarked it. I wasn't disappointed and here's my adapted version of Makhani Dhal. Oh and don't miss the cookbook give away!

Makhani Dhal (serves 6-8)

225gr black lentils (I used brown)
2 onions, finely chopped
2 green chiles, deseeded and sliced
vegetable oil
1 tbsp grated fresh ginger
3 garlic cloves, thinly sliced
1 tsp ground turmeric
1/2 tsp hot chili powder (optional)
2 tsp ground cumin
2 tsp ground coriander
1 1/2 tsp garam masala
3tsp curry powder
2 bay leaves
1 vegetable stock cube
2 x 400g cans red kidney beans (I used black beans)
2 x 50g sachet of creamed coconut
handful of chopped fresh coriander

Cook the lentils in salted water according to package instructions until nearly tender (you'll cook them a little longer with the rest of the ingredients later). The time will vary slightly depending on the type of lentil you use. Brown ones take about 15 minutes.

Heat the oil in a frying pan and sautee the onion over medium heat until beginning to soften but not brown. This should take 5-10 minutes. Stir regularly.

Stir in the chili, ginger, garlic, and spices and cook over a low heat for another minute or two until fragrant.

Add the almost tender lentils, beans, bay leaves, stock cube and a bit of water. Simmer on low for about 20 minutes to thicken. Stir regularly to stop it from sticking. You might want to also add a little bit more water at a time if the dhal becomes to thick.

Stir in the creamed coconut until dissolved.

Check the seasoning and add salt and pepper to taste.

Top with chopped coriander and serve with chapatis, naan or over rice.

Enjoy!