Pin It Now!
Roast Broccoli might not sound quite as exciting as let's say Torta di Spinaci or Lemon Drizzle Cake and I don't even know if you could really call it a recipe, probably more of a method, but it's amazingly good and certainly got me excited. Even my pictures aren't very exciting as I wasn't so sure it'd be worth writing about. It definitely is. I think this might be the way to have broccoli.




My relationship with broccoli is somewhat ambivalent. I like it a lot in theory, it's good for you, it looks great, it's versatile, but I often find it a bit bland. I've probably only got myself to blame for that. I think I tend to overcook it a bit when I steam it, so that the tops of the florets become a bit to soft and loose some of the flavour. But no more! I'll just roast it from now on. It tastes fabulous and the texture is amazing. Soft, yet crunchy, sweet and addictively salty at the same time.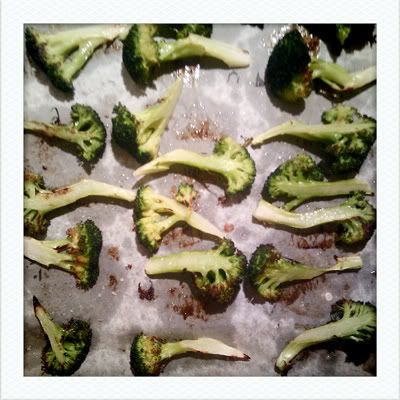 What do you think is the best way to cook and serve broccoli? Do you like it steamed, stir-fried, as a soup? Please share as I think I might need to do some more experimenting!

And a final reminder to have a look at this post for a chance to win the cookbook give away! The deadline is tomorrow.

Roast Broccoli (serves 2 as a side)

1 large broccoli, cut into medium sized florets
1 tbsp olive oil
3/4 tsp sea salt

Preheat your oven to 220C/425C/Gas 7.

Toss the florets in the olive oil or brush it on with a pastry brush.

Liberally sprinkle with sea salt.

Spread out in a single layer on a large baking tray lined with baking paper.

Roast for 15-18 minutes, turning once half way through, until the edges are brown and crunchy.

Careful when opening the oven door! There was a lot of very hot steam.

Enjoy!