Pin It Now!
I hope you're like me and don't get bored of soup quickly, because that's exactly what I've been cooking again. During the autumn and winter month we often have soup every week or so. It's warming, quick and most of the time even a cheap meal. Even with the added cream one portion of this soup has only about 250kcal. If you wanted to reduce that amount even further, just leave out the cream, the soup is still yummy without it. I like to serve it with croutons if I'm having it for a quick lunch or with some fresh crusty bread if I want something a bit more substantial.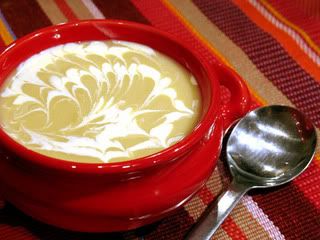 Parsnip Soup

2tbsp butter
900gr parsnips, peeled and thinly sliced
1 onion, chopped
2 cloves of garlic, crushed
2tsp ground cumin
1tsp ground corriander
2pints good quality vegetable or chicken stock
1/4 pint single cream
salt, to taste
pepper, to taste
chives, for garnish
croutons (optional)


In a large soup pot, melt the butter over a medium heat. Add the parsnip, onion and garlic and cook over a low heat until softened, but don't let it brown.

Add the cumin and corriander and cook for another couple of minutes, stirring continuously.Add the stock, bring to a boil, cover and simmer for 20 minutes or until the parsnip is cooked.
Puree the soup with a stick blender or food processor until smooth.
Add the cream and re-heat, making sure that it doesn't boil again.Granish with chives and croutons and serve immidiately.