Pin It Now!
I have no idea where this week has gone. Well, one thing I do know is that I haven't had much time to cook. It's been one of those weeks where I was glad I had some home-cooked meals in the freezer to just quickly heat up when I got home from work. I also have to admit that on Wednesday I even resorted to opening a tin of Ravioli. Oh well, at least it brought back some fond childhood memories. Saying that, my mum is a great cook and it wasn't often that we got fed Ravioli.
The one thing I have made this week is soup. Not only do I truly believe that everyone should be eating soup at this time of year, because it warms your heart and soul, as well as your stomach, but my 87-year-old friend Jock has just come out of hospital and I wanted to take him something that he can easily just warm up. He loves soup, so I thought that's what it'll be.
This particular soup is one of the quickest that I know to make and it uses ingredients I usually always have in my kitchen cupboards. It's great if you want a quick warm lunch or a soup as a starter. It can be on the table in less than 15 minutes.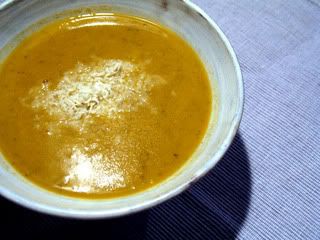 Butter Bean Soup with Sundried Tomatoes, Pesto and Parmesan
900ml good quality chicken or vegetable stock
2 cans butter beans, drained and rinsed
1 can white kidney beans or butter beans or haricot beans, drained and rinsed
4tbsp sun-dried tomato puree
5tbsp pesto
2cloves of garlic, chopped finely
5tbsp freshly grated parmesan
salt, to taste
freshly ground black pepper, to taste
Place the beans and stock in a large pan and bring to a boil.
Reduce the heat and stirr in the sun-dried tomatoe puree, pesto and garlic. Cover and simmer for five minutes.
Remove from the hob and puree until smooth using a stick blender or a food processor. If you like you can keep some of the beans whole by removing them and adding them back after processing the soup.
Return the pan to the hob and simmer for another 4 minutes. Add the parmesan and season with salt and pepper to taste. Serve with some crusty bread.