Pin It Now!
...but it makes up for it in taste. I was thinking of stealing Deborah's Bad Photo Sunday idea for the post about this dish. On Sunday's she blogs about those recipe that taste good but are not very photogenic on her blog Taste and Tell. My Vegetable and Potato Bake is definitely one of those.

I cooked it during my recent trip to Germany at my mum and dad's house. On Friday mornings my mum volunteers in a Residential Care Home, reading to the residents from the local newspaper and generally having a chat about stuff going on in the area. So she asked me if I'd mind cooking that day, so she wouldn't have to do it when she got back. Of course she knew I'd happily oblige and so I started looking for recipes, because I quickly realised that a lot of the things I cook without using a recipe would not really be to my parents' taste as my dad doesn't like garlic and both of them are not into spicy food either, plus I didn't want to go shopping for tons of ingredients and use some of the veg from my mum's garden.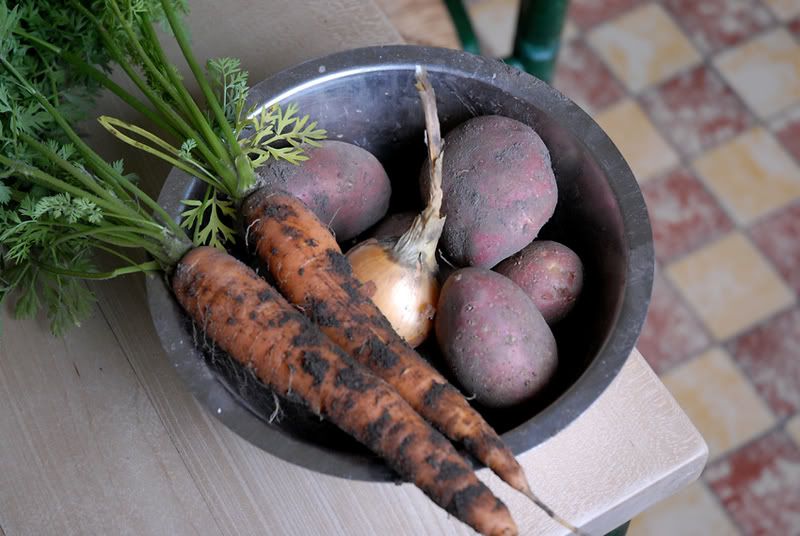 After a while trawling the internet, I found a recipe that looked somewhat promising on chefkoch.de, a German food website. Best of all, it meant I could get fresh onions, carrots and potatoes from the garden and only had to buy the broccoli and meat. The outcome actually surprised me. Even though I thought the recipe sounded okay, I chose it more for my mum and dad's taste buds than my own, but I have to say I enjoyed it a lot and thought it well worth sharing. The original German recipe can be found here, oh and here's also the bad photo before I forget it: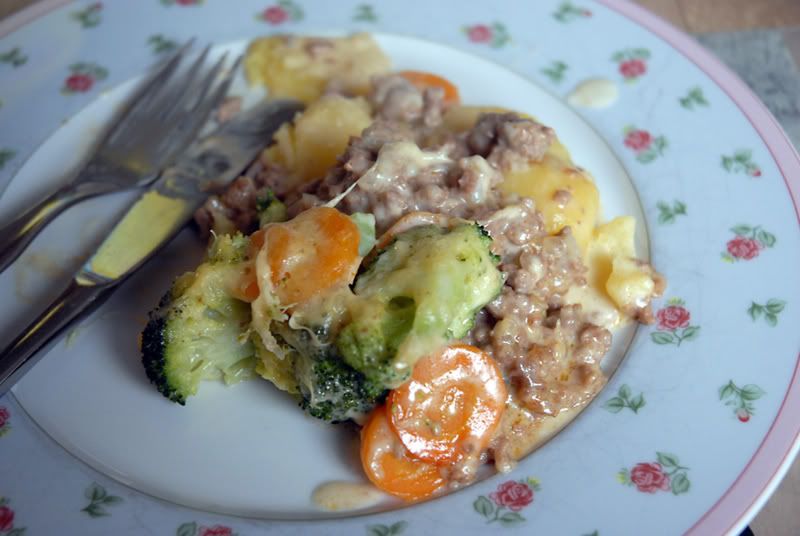 Vegetable and Potato Bake (serves 4)

1lb potatoes, peeled, cooked and sliced
1 head of broccoli, cut into florrets
3-4 carrots, sliced
1 onion, chopped
2 cups vegetable stock
1/2 lb minced beef (ground beef)
1/2lb minced pork (ground pork)
1 cup grated cheese
2/3 cup single cream (half and half)
4 tbsp tomato ketchup
1 tbsp margarine or butter
2 tbsp flour
salt and pepper, to taste,
ground nutmeg, to taste
sweet papika, to taste

Preheat your oven to 180C/Gas4.

Bring the vegetable stock to a boil and cook the sliced carrots for about 4 minutes. Add the broccoli florrets and cook for a further four minutes. Drain, but retain about 1/4 of the stock.

While the veg is cooking, heat some oil in a frying pan and sweat the onions until translucent. Add the minced meat and brown well. Season with salt, pepper and paprika. Stirr in the tomato ketchup.

In a seperate sauce pan, melt the butter and combine it with the flour using a whisk, until it starts to colour lightly. add the cream and the retained vegetable stock, little by little, whisking constantly to avoid lumps. Season the sauce with salt, pepper, nutmeg and paprika. Stir in 1/2 of the grated cheese.

Grease an oven proof dish and cover the bottom of it with the potatoes by overlapping the slices a little. Season with salt and pepper.

Next cover the potatoes with the cooked minced meat,top with the cooked vegetables and finally pour over the sauce.

Top with the remaining cheese and bake in a preheated oven for about 30 minutes.