Pin It Now!
I've signed up for weekly Organic Veg Box delivery and as can be expected at this time of year there is an abundance of root vegetables, including carrots, big, small, orange, purple. Now, I don't mind carrots, but neither am I their biggest fan, so when I opened my fridge and found that I had accumulated 13 of them, I decided it was time for an action plan. First route of attack was to bake a carrot cake for the weekend and I'll also be making some kind of carrot slaw/salad this week, but more about that after I've made it.

The cake was so popular that I didn't have any left to take a decent picture once again, but I took that as a sign that it was definitely worth blogging about. The recipe is based on the one from The Great British Book of Baking, which accompanied last year's Great British Bake Off. If you live in the UK I'm sure you will have heard off the TV show, it was kind of hard not to. I'll be making it again soon, no doubt and will do my best to take a proper picture.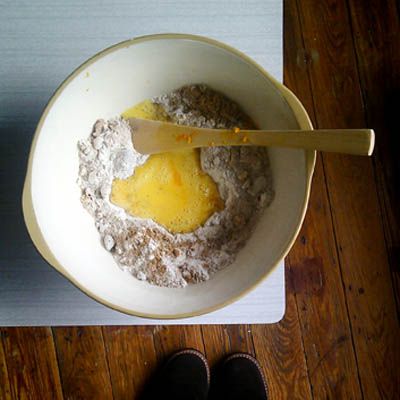 This is a delicious moist cake, with just the right amount nuts, good balance of spices and the addition of orange zest and juice makes it really nice and fresh as well. The original recipe is for a cake baked in two cake tins with has a layer of frosting in the middle as well as on top, but I baked mine in my 26cm spring form pan and just frosted the top of the cake. So here is the recipe as I made it.....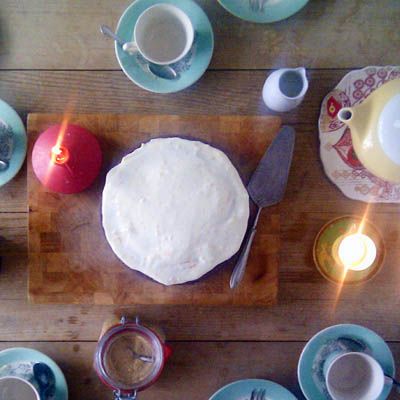 Carrot Cake (serves 8-12)

For the sponge:

225g self-raising flour
1tsp baking powder
1 1/2tsp ground cinnamon
1/4tsp grated nutmeg
1/2tsp ground mixed spice
1/2tsp ground ginger
22gg soft light muscovado sugar
grated zest of 1/2 unwaxed orange
100g walnut pieces
3 medium free-range eggs, beaten
150ml sunflower oil
250g grated carrots (about 3 medium ones)

For the frosting:
100g full-fat cream cheese
25g unsalte butter, softened
75g icing sugar, sifted
grated zest of 1/4 an unwaxed orange
1tsp orange juce

Preheat oven to 180C/350F/Gas 4.

Grease and line the bottom of a 26cm spring form pan.

In a large mixing bowl sift together the flour, baking powder and all the spices.

With a wooden spoon, mix in the sugar, the orange zest and the walnuts.

Now add in the beaten egg, sunflower oil and the grated carrot and keep stirring until all the ingredients are really well mixed.

Pour the batter into your prepared springform pan and spread out evenly with the back of a metal spoon.

Bake in the middle of your pr-heated oven for about 40 minutes. You might want to loosely cover the top with tin foil or baking parchment after about 30 minutes if it looks like it is getting to dark. You can check if the cake is done by inserting a wooden skewer into the middle. If it comes out clean the cake is done, if there is still batter clinging to the skewer put it in for another five minutes or so and then test again.

Set aside to cool for five minutes before running a knife carefully round the edge of the cake and carefully release the ring of your springform. Now set aside to cool completely.

Whilst the cake is cooling you can make the frosting, by beating all the frosting ingredients together in a mixing bowl with a wooden spoon. Beat quite rigorously until smooth and creamy. The frosting thickens up with beating, but if it's really warm weather or you have a warm kitchen, pop it in the fridge before spreading it on the cake.

Once the cake is completely cooled, spoon the frosting onto the top and evenly spread out to cover the whole top of the cake with the back of a wooden spoon or a palette knife.

If you like you can decorate the cake with more grated orange zest or some walnuts.

Enjoy!

P.S. If you prefer, you can bake the cake in 2 x 20.5cm round cake tins and 'sandwich' it with frosting as well as putting a second layer of frosting on top. In that case, just double the amount of frosting stated above and also reduce the baking time of the cakes to about 25 minutes.