Pin It Now!
I won a competition a few weeks ago on Lavender & Lovage. The prize? £65 worth of fish from Delish Fish, a great family run business up in Scotland that delivers fresh fish directly to your door. I thought to myself at the time, that it was a little daft of me to enter, as I don't have a freezer and I live on my own. I figured I never win anything anyways though.

You can imagine my reaction when Karen got in touch to tell me I was the competition winner. I mean I was excited. It's always nice to be the winner of something, but I also started panicking slightly as to what to do with all that fish that was going to arrive on my doorstep shortly. Luckily, my friend Jacqueline who lives around the corner from me was kind enough to make some room in her freezer for all that fish, that I am now slowly and very happily cooking my way through. There'll be more recipes to follow, but let's start with Spanish Fish Stew, which I made with some of the lovely hake fillets I received.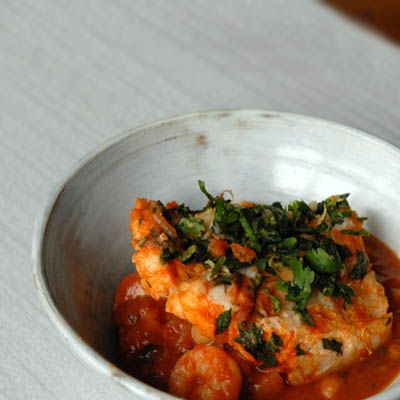 My friends Lucy and Yuri had been driving back up to Manchester after a weekend in Brighton and I thought it'd be nice for them not to have to sort their own dinner out when they finally made it back after driving for six hours. Since they live in the same building as I, it was easy for them to drop their bags and just come upstairs to a hearty, smoky and warming fish stew (plus a very small beer).

I found the original recipe here and have adapted it to suit my taste and the contents of my larder.

Spanish Fish Stew (serves 4)

2 garlic cloves, finely chopped
1 lemon, zest and juice of
a generous handful of fresh coriander, roughly chopped
olive oil
1 onion, finely sliced
250g new potatoes, peeled and cut into 2cm chunks
1 heaped teaspoon paprika
a pinch of chilli powder or cayenne pepper
400g can chopped tomatoes
1 veg stock cube
1/2 - 1tbsp sugar
salt and freshly ground black pepper, to taste
200g raw king prawns
1 x 410g can chickpeas, rinsed and drained
500g skinless hake fish fillets

Mix the chopped coriander, lemon zest and half the garlic and set aside for later.

Heat then a large heavy bottomed pan, heat the oil and add the onions and potatoes. Cover and saute for about 5 minutes or so on medium heat, until the onions begin to soften. Stir from time to time.

Add the remaining garlic, paprika and chilli powder (or cayenne), stir to coat and cook for another couple of minutes, until fragrant.

Add the lemon juice, followed by the tomatoes and half a can of water. Crumble in the stock cube and add the sugar, it'll help cut some of the acidity of the tomatoes.

Cover and simmer for about 20 minutes until the potatoes are almost cooked.

Season with salt and pepper to taste.

Add the chickpeas and prawns and stir through.

Place the hake fillets on top of the stew, cover with a lid and simmer for another 10 minutes.

Remove from heat, scatter with the coriander/garlic/lemon zest mix and serve with some crusty bread to mop up the sauce.

Enjoy!