Pin It Now!
I love British puddings. Having grown up in Germany I was used to mainly having cold desserts, serving something warm for pudding is pretty unheard of over there. I've been wrecking my brain and can't really think of any German dessert that's served warm. I'm sure there must be one, so if you can think of one please let me know!
Anyways, back to British puddings...
Since moving to England ten years ago, I have come to love all the different warm desserts here. Yes, sometimes they are bit stodgy, but I guess that's what also makes them so comforting. Sticky Toffee Pudding, Jam Roly Poly, Bread and Butter Pudding and of course all the various crumbles - rhubarb, apple or cherry - I could eat them anytime, not just after a meal. To make it perfect I need some custard or sometimes I like the hot/cold thing and have them with some ice cream.
Yesterday, I never got around to post the Apple Crumble I made for pudding on Saturday. I got the recipe from a Farmer's Market cookbook last autumn. I had been picking Blackberries and was looking for different ways of using them, so the original recipe has a mixture of apples and blackberries, but of course you can use just about any fruit or combination thereof. It's really all about the crumble topping and this is the one I have come to use all the time.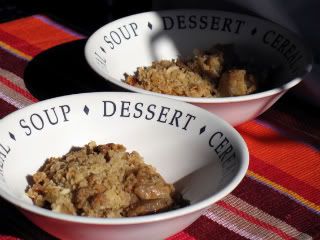 Apple Crumble
(for 6-8 people)
5 large Bramley or other cooking apples, peeled, cored and chopped
3-4tbsp dark brown sugar
1tsp cinnamon
1 lemon, juice off
1 cup + 2tbsp (= 18tbsp) brown sugar
9tbsp flour
1 cup + 2tbsp (= 18tbsp) porridge oates
1 cup +2tbsp (=18tbsp) sliced almonds
1tsp vanilla extract or almond extract
175gr butter, cut into cubes
Preheat oven to 180C/Gas 5.
Place the chopped apples in a large rectangular oven dish.
Drizzle with lemon juice and sprinkle with dark brown sugar and cinnamon. Mix well so all the apples are coated.
In a bowl mix the rest of the ingredients with your hands. Cutting the butter into the mixture until you get a crumble topping.
Spread the topping fairly evenly over the apples.
Bake for 25 minutes or until the fruit is bubbling and the top is golden.
Serve hot with custard or vanilla ice cream.