Pin It Now!
Kalofagas
is one of the blogs I subscribe to in my Google Reader and the other day there was a recipe posted that I knew straight away I had to try. Peter, who writes the blog, called it 'Army of Baked Vegetables', and you can have a look at it
here
.
I made it last night, as I thought it would go well with our lamb chops, which I wanted to keep simple, seasoned with rosemary and garlic. I'm glad I did try it, the flavours are great. You get a real sweetness from the caramelised onions contrasted by the acidity from the tomatoes and the parmesan and breadcrumbs add a nice texture.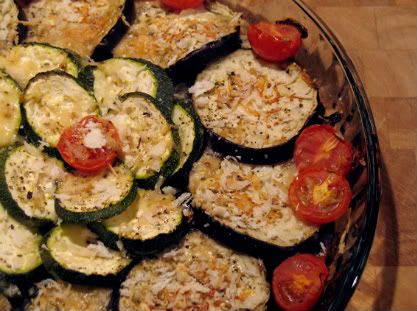 Now my dish didn't look like an army, as I only had normal aubergines (eggplants), which of course meant they were much larger than the courgette (zucchini) and the cherry tomatoes I used. Plus I arranged them in a round flan dish as I halved the recipe and didn't have enough to fill my large square roasting tray. Of course that didn't affect the flavour though and I'll definitely make this again and maybe next time I'll have regimented lines, too. I could imagine these as a great side dish for a BBQ, as they taste just as good cold.