Pin It Now!
When I first started writing this blog, somebody mentioned to have a look the
Foodie Blog Roll
. Well, I did at the time but didn't feel ready to join, but yesterday I had another look at it, because I kept coming across it on other food blogs and I sent an e-mail to the
Left Over Queen
asking to add me and she did! So there.
Okay, now I guess I better keep blogging about what's going on in my kitchen...
The Curried Chicken Parcels are one of those recipes that I came across in some magazine, I think it was something like Better Homes and Garden a few years ago. Often I see a recipe and cut cut it out and they disappears in the depths of my recipe folder, never to get tried (I think I'd need at least 10 years to make all the ear-marked recipes, even if I cooked something new each day and stopped collecting new ones now). Luckily that didn't happen with this recipe though. I tried it that week and never looked back. I just love it and my friend G. likes a plate full of these for his birthday every year. He not only likes them so much that he prefers them to a birthday cake, but he (jokingly of course) proposed marriage after trying them for the first time.
So, without further ado....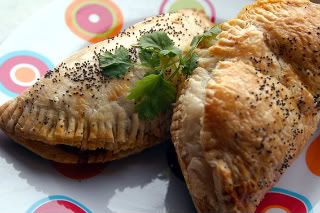 Curried Chicken Parcels
2 tsp olive oil
1kg frozen puff pastry, defrosted
1 red onion, finely sliced
150gr butternut squash, peeled and cubed
150gr sweet potato, peeled and cubed
200gr chicken breast fillets, cubed
3tbsp Korma curry paste
100ml coconut milk
2tbsp fresh coriander, chopped
1 egg
2tbsp poppy seeds
Heat the oil and fry the onion, butternut squash and sweet potato for about 10 minutes.
Add the chicken and fry until browned on the outside and nearly done.
Add the curry paste and coconut milk and simmer for another 10 minutes.
Take the pan of the heat and stir in the coriander.
Roll out the pastry and cut out four 17 centimetre circles.
Divide the filling between the pastry circles.
Beat the egg and brush the edges of the pastry circles.Fold the pastry over to form a semi-circle and seal the edges by pressing them down with a fork.Brush the tops of the parcels with the rest off the beaten egg and sprinkle with the poppy seeds.
Chill in the fridge for half an hour (I never really bother with this) and then bake in a pre-heated oven (200 C/Gas Mark 6) for about 30 to 40 minutes until golden.They are great hot or cold.