Pin It Now!
Well, I have to say we struggled eating ours. The plan was to make larger than normal Yorkshire Puds and fill them with mash, bangers and onion gravy, just like you can get them in a decent pub. So rather than using a Yorkshire Pudding tray to make them, I rooted through my cupboards to look for a suitable pan. I wanted one that I would allow me to still make individual (rather than making one really large one and cut it up) but bigger than normal puds. After checking everything I had, I decided that my sandwich tins would probably work best, as their sides aren't too high.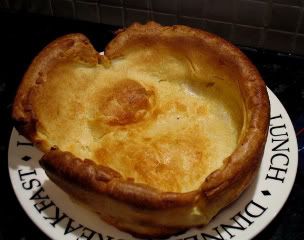 The results were great, but absolutely humongous. D and I were both a little overwhelmed when we sat down and saw what we had in front of us. Nevertheless, we persevered and conquered!
This is the recipe that I now always use, it works every time and is based one one by Gordon Ramsey. The timings given are for standard puds. If you make them larger they will take longer, mine took about half an hour and if you make it even bigger to share between the family it might take as long as 45 minutes. Of course you can also use this batter to make Toad in the Hole.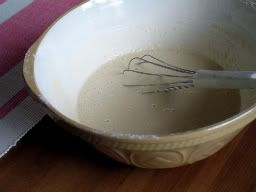 The Best Yorkshire Pudding
225gr (8oz) plain flour
1/2tsp salt
4 eggs, beaten
300ml (1 1/4cup) milk
100gr (3 1/2oz) lard
Sift the flour and salt into a large bowl.
Whisk in the eggs and half of the milk until you have a smooth batter.
Add the rest of the milk and whisk until smooth with no lumps left.
Cover and rest for at least half an hour or you can make this the day before you want to use it.
Preheat oven to 230C/Gas 8.
Divide the lard between the pudding molds (the recipe makes 6-8) and place them in the hot oven.
Once the lard is piping hot and starting to smoke remove the trays from the oven and carefully divide the batter between them, filling the mold about 2/3 to 3/4 of the way up.
Immediately place them back in the oven and bake for about 12-15 minutes.
Don't open the oven door during the first ten minutes of baking to avoid the puddings from collapsing.