Pin It Now!
Tomorrow my big sister is coming to stay for a week. She, like the rest of my family, lives in Germany, so I'm always really happy when I get to spend some time with any of them, as it only happens a couple of times a year.

I spent most of today just pottering around the house, tidying things away, doing laundry and getting the spare bedroom sorted out. Thankfully, she won't be checking in corners and under beds, so I don't have to do a major spring clean. It'd be a different story if my mother came to visit. Even though my mum obviously doesn't check under beds either (or at least I think she doesn't), I always start a major cleaning operation when she comes, as her house always seems to be spotless and I get conscious of things I usually don't even notice.

My sister doesn't really cook much, so she always says she looks forward to coming here and being cooked for, which means I'll probably do quite a bit of it over the next week, but I don't know how much time I'll have to write about it. So there might be a backlog of stuff to post by the time the week is over, but I'll make sure I make a note and take a pic of everything to share later.

For now I'll leave you with my version of Ratatouille. Full of vegetables and wonderful flavours, I like it with pasta, as a filling for a baked potato or even as a kind of sauce/side with pork, fish or chicken. It can be eaten hot or cold. You can also change the quantities of vegetables and use more of one and less of the other, or try adding mushrooms for example. It adapts well to whatever is in your fridge.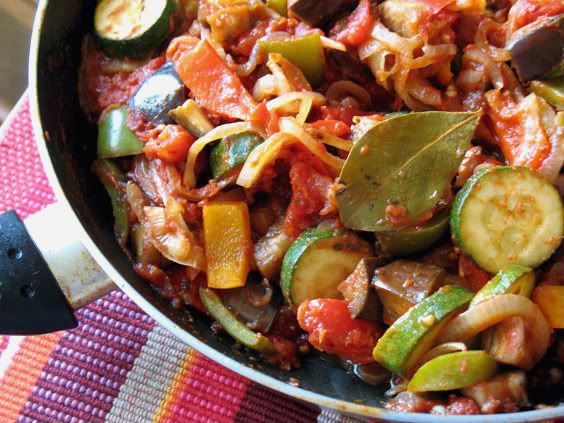 Ratatouille

2 cans plum tomatoes
2 onions, sliced thinly
2 red peppers, cut into chunks
1 yellow pepper, cut into chunks
1 aubergine, cut into chunks
2 small zucchini, cut into thick slices
4 garlic cloves, crushed
2 bay leaves
1 tablespoon chopped fresh thyme
salt, to taste
fresh ground black pepper, to taste
1/2 tablespoon sugar o
live oil

Heat a little oil in a large, heavy based pan.

Add the onions and fry for 5 minutes. Now add the peppers and fry for 2 more minutes.
Remove from the pan.

Add a little new oil to the pan and fry the aubergines for 5 minutes, then add the zucchini and fry for 3 minutes.

Remove from pan.

Add the garlic, bay leaves, thyme, sugar and tomatoes to the empty pan and simmer until the tomatoes start breaking down.

Return all the vegetables to the pan and simmer on low for about 15 minutes.

Stir regularly and season with salt and pepper.

The vegetables should be very soft but at the same time still have some of their texture.

Season with more salt and pepper to taste.

Serve immidiately or allow to cool down and serve it cold.